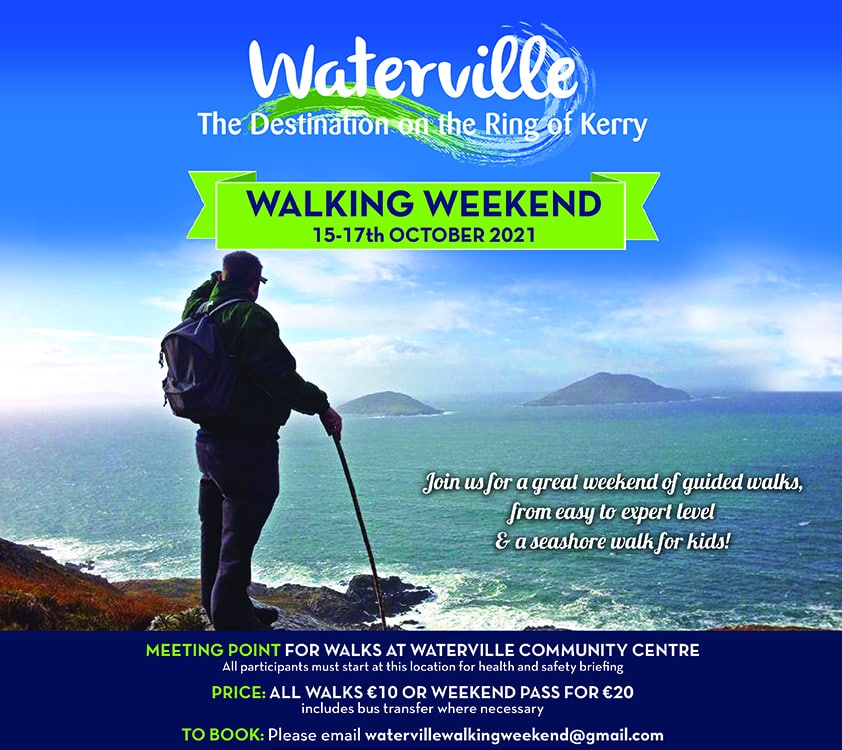 Waterville Walking Weekend
15th - 17th October 2021
Fri 15TH Oct - FREE Waterville Heritage Walk
Registration 4pm
Sat 16th Oct - 1. GLENMORE - CAHERDANIEL - WATERVILLE
Registration 8.30am
Sat 16th Oct - 2. Bolus Barrack Loop
Registration 9.30am
Saturday 16th October - 3. Emlagh Loop
Registration 10am
Saturday 16th October - 4. Derrynane Mass Path
Registration 2pm
Sunday 17th October - 5. Mastergeehy to Waterville
Registration 9am
FREE Children's Seashore Walk
Saturday 16th October sponsored by Sea Synergy
Registration 9am
Meeting Point for walks at Waterville Community Centre
All participants must start at this location for health and safety briefing
Price: All walks €10 or weekend pass for €20
includes bus transfer where necessary
To book: Please email watervillewalkingweekend@gmail.com
Fri 15TH Oct - FREE Waterville Heritage Walk
Registration 4pm: Our first walk is on Friday afternoon, around Waterville.
It is a FREE guided history walk of the Village, St Michael's Church and
The Cable Station. Gentle walk, 4km, 2 hours.
Sat 16th Oct - 1. GLENMORE - CAHERDANIEL - WATERVILLE
Registration 8.30am: Bus will take walkers to starting point in Glenmore.
This walk is for fit regular hillwalkers. Walk via the Windy Gap with superb views
of lake, sea, mountains, glens, inshore inlets, Kenmare River estuary,
Beara peninsula. Strenuous walk, 18km, 6.5 hours.
Sat 16th Oct - 2. Bolus Barrack Loop
Registration 9.30am: This is a moderate walk for the regular hillwalker.
Climb to ruins of a signal tower. Spectacular cliff views, The Skelligs, St Finian's Bay, Ballinskelligs Bay and the open Atlantic Ocean. 9km, 3 hours.
Saturday 16th October - 3. Emlagh Loop
Registration 10am: This is an easy walk through contrasting landscapes with
a mix of coastal and bogland settings followed by beach and views of
Ballinskelligs Bay. 7.5km, 1.45 hours.
Saturday 16th October - 4. Derrynane Mass Path
Registration 2pm: Participants in walks 2 & 3 could also take part in this
moderate walk which takes you over hillside and shoreline. Follow the Mass Path
of Penal Times and through the National Park and home of
Daniel O'Connell, The Liberator. 6.5km, 2.5 hours.
Sunday 17th October - 5. Mastergeehy to Waterville
Registration 9am: Moderate to strenuous. This walk forms part of The Kerry Way.
It is a first-class ridge walk with stunning views of a number of lakes, mountains
and the wild Atlantic Ocean. 9km, 4 hours.
FREE Children's Seashore Walk
Saturday 16th October sponsored by Sea Synergy
Registration 9am: Children's walk for ages 6-12. Join marine biologists for
an exploration of the local seashore. Learn about the creatures that live there,
like crabs, starfish, and more.